Department Description

The department of Philip A. Emery Elementary Center (PEEC) consists of two programs: early childhood education and elementary school. The Early Childhood Center (ECC) serves Deaf and Hard-of-Hearing students starting at age 3, and the elementary school provides instruction from kindergarten through 6th grade.
In Emery Hall, we strongly believe that all Deaf and Hard-of-Hearing students have the aptitude to develop and perform well in a language-rich environment. Through strong collaboration and teamwork of the teachers and staff with parents and guardians, we believe that all students should be provided with opportunities, so they can develop in all aspects: communication, socioemotional, academic and physical.


Department Goals:

Every student receives maintenance and additive American Sign Language/English bilingual education, where they study standards-based language arts, mathematics, social studies, science, physical education and other subjects.

Each student learns and develops study skills and problem-solving skills, and maintains their family and community relations to thrive in the school and home communities.

Each student is given the opportunity to study American Sign Language (ASL), Deaf Studies and Deaf arts as well as participate in extracurricular activities for linguistic, identity, social and physical development as Deaf and Hard-of-Hearing persons.

The early childhood education center and elementary school teachers and staff engage parent and community stakeholders in school improvement efforts, where student performance and extracurricular activity data inform the school community and the state board of education stakeholders on the viability and appropriateness of the vision.

Elementary School
Following the Kansas College and Career Readiness Standards, our instruction provides each Deaf or Hard-of-Hearing student opportunities for language development in American Sign Language (ASL) and English across the curriculum. Students engage in learning in both languages, through a variety of modes: signing, viewing, reading, writing, and listening and speaking as appropriate. For students to become fully bilingual, they need full access to both languages at all times at school and home. Emery Hall focuses on the whole child, by providing Social Skills and Character Education daily in structured and unstructured times of the school day. In addition, the structure of support in students' academic and study skills is built into the daily schedule to ensure students develop the needed skills to succeed as they transition to middle school. Last but not the least, each student's family's acquisition and application of accessible language and communication in the home are fostered through KSD Outreach Department's resources and programs.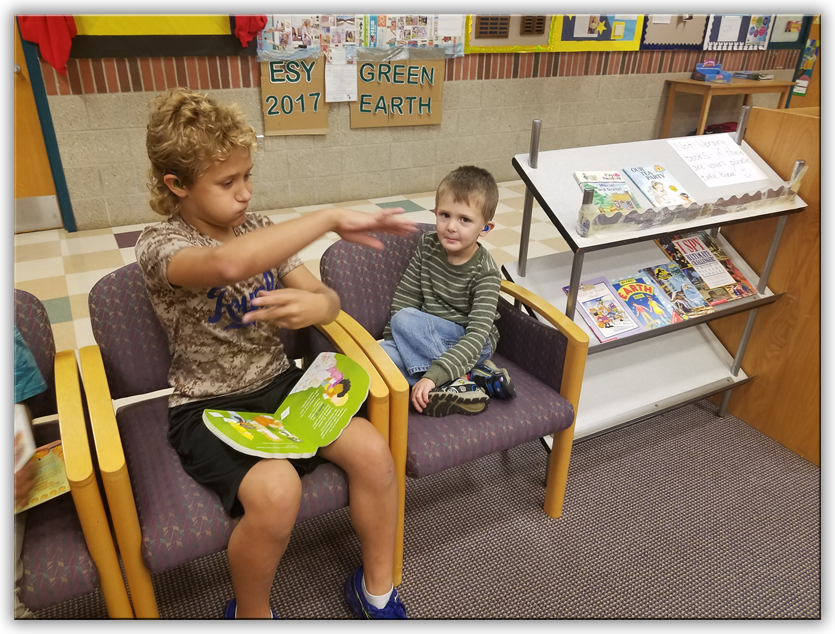 Belief of Elementary School
The KSD Elementary School believes in supporting students in becoming balanced bilinguals in American Sign Language (ASL) and English with positive identities. Students, who are Deaf or Hard-of-Hearing, learn to embrace two languages as their own because language is one of the most important human abilities to organize critical thinking, to communicate and express feelings, and to socialize as a complete human being. Having secure sense as a healthy Deaf or Hard-of-Hearing person leads to self-determination in making important life choices in the future.
K-6 Education
The elementary school offers a comprehensive K-6 instructional program for elementary-aged students, which has been designed to meet the varying educational needs of Deaf/Hard-of-Hearing students. The elementary curriculum, following the Kansas College and Career Readiness Standards, is used to teach a variety of areas, including Language Arts, Math, Science, Social Students, American Sign Language, Deaf Studies, Library/Media, Art, Physical Education, and Keyboard/Technology.
We believe that the curriculum should fit the student, and not force the child to fit the curriculum.  Our Language Arts and Math groupings are based on language and ability levels, which allows teachers to provide materials at the student's instructional level of language and academic functioning while challenging students to improve their skills. Elementary students participate in a variety of programs to work towards individual, classroom, and school-wide goals while improving their reading, writing, signed and/or spoken language (ASL and/or spoken English), and socioemotional and physical skills. Field trips, in addition, provide the needed background knowledge and experience for the students to apply to their classroom and textbook learning and discussion.
American Sign Language/English Bilingual Language Arts

Our ASL/English bilingual program provides content instruction for Deaf and Hard-of-Hearing students using both social and academic ASL and English to promote higher levels of language, literacy development and critical thinking skills. Academic work is kept at grade level in both languages at all times. Using language separation, the ASL Language Arts instruction and the English Language Arts instruction are linked together across the curriculum, students receive opportunities for language experience in signing, viewing, reading, and writing in both languages. Students who have access to spoken English also have opportunities for language experience in listening and speaking across the curriculum.

Students, who have emerging, limited ASL skills participate, on a short-term basis in ASL Immersion class every day for one hour to focus on development of social and academic ASL in support of overall bilingual acquisition. Driven by Kendall Conversational Proficiency Level (P-Level) assessment findings, students work on their ASL conversational skills, and their ASL conversational skills are assessed each quarter. Students, achieving a P-Level score of 4, are dismissed from ASL Immersion class and begin receiving individualized ASL services. Students who are new to ASL may also receive services from a Language Facilitator on a short-term basis to assist with the comprehension of academic ASL use in content-area classes.


Support Services

Students, having specific language, socioemotional and/or physical needs based on their Individual Education Plan (IEP), are entitled to receive support services. To address their language needs, they may receive one or more of the following: ASL therapy, speech-language therapy, ASL immersion, and/or reading intervention. Counseling services are provided to students for their socioemotional needs in addition to counselors and teachers teaching students social skills. Students' physical needs are addressed through physical therapy and/or occupational therapy.

Contact Information

Molly Rothwell
Head Teacher
913.324.5848 (videophone)
913.210.8129 (voice)